Horseback Riding
LRR offers walk, trot, and canter rides across tens of thousands of acres in Colorado's spectacular Rocky Mountains. You'll fall in love with beautiful vistas, hillsides dotted with wild flowers, shaded groves of Aspen, and abundant wildlife.
An experienced wrangler accompanies each small group to provide the personal attention necessary to make your ride safe and enjoyable. Wranglers take care of opening gates, answering your questions, and usually squeeze in a tall tale along the way.
Morning rides start mounting at nine and return for lunch. Afternoon rides leave the barn at one-thirty and return between four and five. Pack a lunch and spend the whole day exploring the sage plains, the aspen topped ridges, or the dark timber of the Roosevelt National Forest.
The Laramie River Valley is home to cattle and bison ranches. Our neighbor's buffalo can be seen in the background of this photo. The valley is also home to a wide variety of wildlife including antelope, elk, moose, eagle, and coyote that you'll often see while horseback.
Wow! That's the only way to describe the views, horses, food, and the staff. We had a great family vacation.
Kids seven and over are provided with a complete riding program. In addition to spending lots of time in the saddle, you will have the opportunity to learn the parts of a horse and to groom and saddle. If you like, you may join the wranglers before breakfast to saddle your own horse.
Children four through six years old enjoy pony rides in the corral and around the ranch. It's a great way for young riders to learn about horses and develop confidence.
It was awesome! Every day we rode our horses - saw scenery we thought could never be topped and every day we finished our ride and said 'That was the best ride ever!'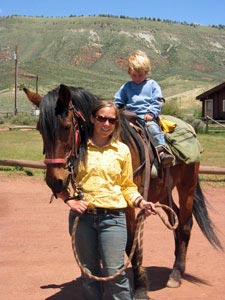 The Program
Orientation
You'll learn about horses and their natural instincts, important safety information, and we'll demonstrate the basic skills you'll need to know. Next you meet your horse and head to our arena for a little practice in the saddle. We'll watch to see that you're safe and comfortable before heading out on the trail.
Daily Horseback Riding
We never run out of interesting terrain. Explore with your wrangler or choose special instructional rides, cattle gathering, or horseback wildlife viewing with our naturalist. Walk, walk-trot, and walk-trot-canter rides are always available so you can find a ride that matches your comfort level and ability.
Horseback Riding Instruction
Beginning, intermediate, and advanced instructional rides are scheduled during the week so you can work on your skills. Instruction typically begins in our arena and progresses to the trail where you can practice what you've learned.
Working Cattle
Twice weekly we gather our steers from their Bull Mountain pasture. Doesn't seem like a complicated task, but positioning your horse to encourage the steers to move in the right direction can be a challenge. We don't always come home with all the steers, but we always come home with a story!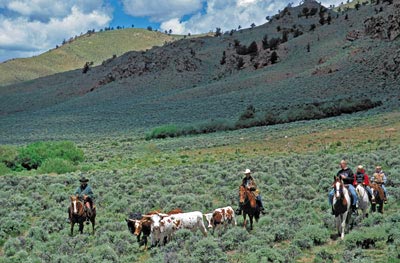 Once in the corrals, riders form teams and try their hand at "team penning." You'll separate ("cut") selected steers out of the herd and do your best to coax them into a pen. Cattle rarely cooperate.
Cookout Rides
For the all-day cookout ride guests can choose between a long ride through the Roosevelt National Forest and a shorter more direct route along LaGarde Creek. Kids participating in our children's program and non-riding guests are driven to the picnic site to join their families.
You'll be greeted with ice cold lemonade and tea, hot cowboy coffee, lunch from the grill including vegetarian options, and goodies sent by our baker. We've found a beautiful spot and furnished it with picnic tables, hammocks, and even a bathroom tent for your comfort.
After lunch you can pull off your boots and refresh your feet with a dip in the cold waters of nearby LaGarde creek. Or just kick back and reflect on your week's adventures. For the return to the ranch, you will have several rides to choose from including a route along LaGarde Creek's hay meadows, or cantering on "the airport" where you might get a glimpse of the Diamond Tail Ranch's bison herd next door.
This stay at your ranch has been not just a relaxing retreat from regular life, but a truly enriching and expanding experience. Something I will always treasure! I was completely comfortable with all the accommodations, relaxed with everyone's warmth, exhilarated by the riding experiences.
Learn to ride bareback
Many ranch kids get their first riding experiences bareback. There's no better way to feel a connection to your horse and improve your balance and posture. It's exhilerating. Our wranglers are happy to give you a leg up for a little bareback time in our arena.
In addition to 1300+ deeded acres which make up the Laramie River Dude Ranch, our operation is conducted on public lands under special permit from the U.S. Bureau of Land management and the U.S. Forest Service.