Frontier Days Rodeo
Cheyenne Frontier Days Rodeo is known as the daddy of them all! The first modern rodeo took place there way back in 1872. What better combination for your vacation - a rodeo and a dude ranch stay where you can experience first hand the Western lifestyle?
Modern rodeo includes many events - calf roping, team roping, steer wrestling, saddle broc, bareback bronc, and bull riding.
Steer wrestling, also know as bulldogging, involves diving from a perfectly fine horse to grab a steer by the horns and wrestle it to the ground.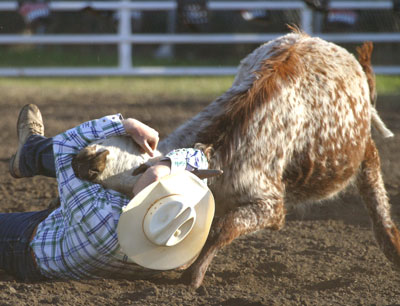 Nightly rodeos build to the finals at the end of the week where successful cowboys compete for the grand prizes.
Bull riding is the finale. Exciting rides keep the croud on the edges of their seats.
Frontier Days is more than just rodeo. Historical mini-parks are well worth the time including the Indian Village, the Old West Town, and the Old West Museum.
You'll find carnival rides on the midway, splendid Western art shows, and plenty of food and drink.
Frontier Days - July 19-28, 2019
It always helps to have a strategy when attending an event like this. We've found that an arrival in the morning works well with visits to the various villages and museums. We then head for the midway and purchase an unlimited ride wrist band that entitles the wearer to rides from 11am to 6pm. Just before rodeo time we load up on food and drink and bring it with us to our rodeo seats.
Night time concerts can be a hoot if you like Country and Western music! Don't try and bring kids unless they are practically adults because it is a very late night and a somewhat rambunctious crowd.
Purchase your rodeo tickets ahead of time on the internet or by phone. Their ticket office is at 800-227-6336 or 307-778-7222 for our visitors calling from abroad. We highly recommend seating area B which offers covered seating to give you a break from the sun. Prices vary by seating area and date. The final rodeo at the end of the week is the most popular so get your tickets early.
Visit the Cheyenne Frontier Days web site for more information, dates, pricing, and tickets.
The ranch does not provide transportation to and from Cheyenne which is about 90 minutes by car. As you decide how to travel to LRR, you might consider the rental car option in order to have the flexability to visit CFD during your stay.