Working Cattle
There are lots of opportunities to work cattle at the Laramie River Dude Ranch. We have a small herd of our own cattle which we gather twice a week and "team pen". We also have unscheduled opportunities to help neighbors work their much larger herds.
Gathering LRR's Herd
Our steers live on pasture and gathering them is an all-morning affair. Gathering is open to all riders and takes place at a walk. Any faster and you'd just rile them. The challenge is to position your horse just so to motivate them to move in the desired direction.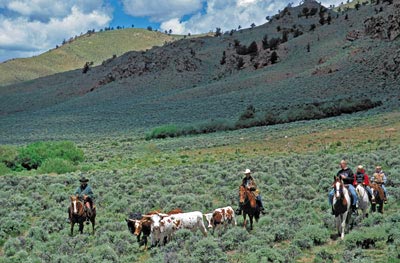 Team Penning
The object of team penning is to separate (or "cut") one more more steers from the larger group and move them across the corral and in to a holding pen. Sounds easy, doesn't it?